The best colonial hotel in San Cristobal de las Casas.
Located in the center of Chiapas, San Cristobal de las Casas is a great tourist destination that offers visitors many cultural and gastronomic options and unforgettable experiences
Colonial style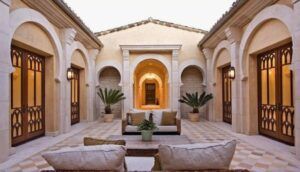 The colonial style that dominates the architecture of San Cristobal dates back to the XVI, XVII, and XVII centuries and although some buildings have been modified or adapted due to climatic conditions and their age, this magical destination has not lost its beauty since its foundation in 1528. This style is one of the most elegant and classic in architecture and decoration. It has become very popular because of the sophistication and cozy atmosphere that transports you back in time.
The main characteristics of this style include adobe or stone walls, high ceilings with exposed wooden beams, large windows, and carved wooden doors. In terms of colors, neutral tones are the most common, the furniture is usually dark wood and the bedding or curtains are made of luxurious fabrics such as silk or velvet.
 Where to stay.
Located very close to the Historic Center, Hotel VM San Cristobal is one of the best hotels in this tourist destination where you can enjoy all the comforts and above all the colonial beauty that characterizes this magical town. Our colonial hotel is an ideal option for those looking for an elegant and sophisticated ambiance that evokes the colonial era. With unique and authentic decorations, you will have the best stay in a cozy atmosphere.
Surrounded by mountains and with a warm climate, you will be able to enjoy places full of tradition, walk through its picturesque streets and fill yourself with energy. VM San Cristobal will be your home in this great adventure so don't think twice and book now.